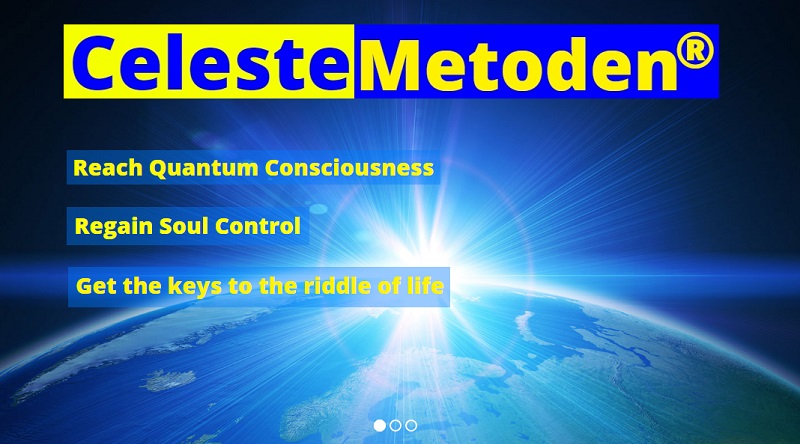 The CelesteMetoden® is a three-step program that leads to self-realizationship and an increased consciousness about the Manifested and the Unmanifested universe. The CelesteMetoden restores the Soul Control in a Mind Controlled individual.
CelesteMetoden®
Information – Raise Consciousness of yourself and the cosmos with the AIC's Self-Realization and Development Program with the at CelesteMetoden® Step 1.
Analysis – Individual Telemetric Health Analysis with the CelesteMetoden® Step 2.
Measure – Let your Individual Quantum Harmonization work Telemetically fully automatically several days a week with the CelesteMetoden® Step 3.
The CelesteMetoden® is developed by Dr. Sandor Alexander Markus, the protector and guardian of "The New World Doctrine", to allow you as a human being to achieve a Higher Soul Related Qualitative Multi-Dimensional Quantum Consciousness – Mastery in Life.
This age-old knowledge, taught by our International Academy A.I.C., has never been offered to the public before. Parts of this knowledge have until now only been available to a select elite in Egypt, Tibet, India and in the West in certain so-called closed societies.
Now the wholeness is taught and added information from the universe's implicit (folded) virtual part, i.e. from the 8th, 7th and 6th dimensional level in order to show the wholeness of the form-manifested universe, i.e. the 3rd, 4th and 5th dimensions.
YOU GET THE KEYS TO THE MYSTERY OF LIFE, THE ANCIENT UNIVERSAL KNOWLEDGE THAT IS NECESSARY IN ORDER TO TURN YOUR INDIVIDUAL INVOLUTION TO COSMIC EVOLUTION AND DEVELOPMENT.
The knowledge is now available to you so that you can change your life for the better, and live in happiness and harmony.